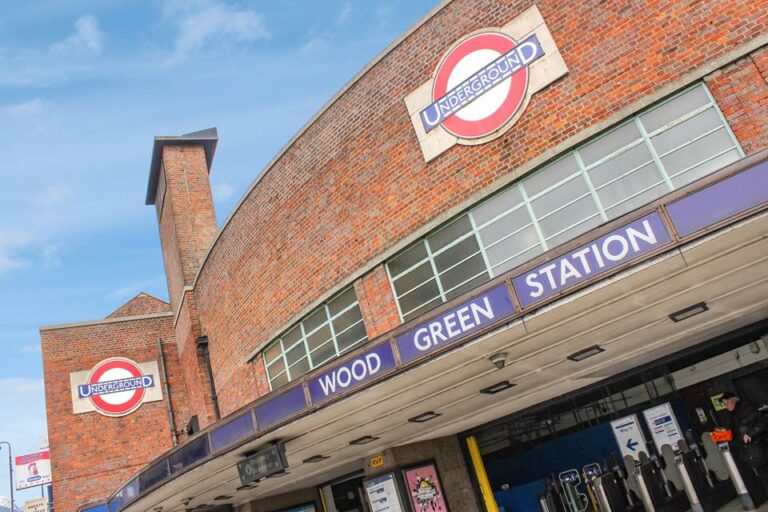 Wood Green is an up-and-coming area combining an eclectic mix of historical charm and modern conveniences. A leafy residential suburb located in North London, Wood Green boasts a vibrant main street with a plethora of lovely cafes, traditional pubs and independent restaurants strewn throughout the neighbourhood. The iconic Alexandra Palace is also located nearby where in 1936, the first BBC Television broadcast was made.
First recorded as Woodlegh in 1256, today Wood Green is a vibrant community offering solace and historical charm from London's busy city centre.
Did You Know?
The name Wood Green derives from Woodlegh or Woodlea, a Saxon word meaning 'open ground near a wood'. The area was first recorded in 1256. Wood Green's original name refers to Tottenham Wood, an expansive area of woodland that covered most of the area.
Between Wood Green and nearby Muswell Hill, you'll find Alexandra Palace, a Grade II listed entertainment and sports venue. Built in 1873, the palace was rebuilt in 1875 following a fire and is often referred to by locals as 'Ally Pally'. The palace is located in Alexandra Park, an expansive green space boasting 196 hectares of lush parkland.
Wood Green was a part of nearby Tottenham within the county of Middlesex until it officially became a part of both Haringey and Greater London in 1965.
Why Wood Green?
Wood Green is steeped in historical charm. Alexandra Palace Station opened in 1859 and to this day continues to connect the area with central London on the Piccadilly Line. In 1910 the Wood Green Social Club opened its doors and was a popular spot for Suffragettes and activists alike to come together.
These days Wood Green offers some of the best Greek restaurants in London. Boasting excellent transport links, the neighbourhood also offers a range of amenities and is a popular area for families. Residents are spoilt for choice with great areas to relax, picnic, play and enjoy some of London's best entertainment, for both children and adults alike. Highgate Woods is a stone's throw away as well as the idyllic Queen's Wood. Wood Green also boasts a number of public swimming pools nearby, including the Arnos Pool on Bowes Road and the Park Road Leisure Centre in Hornsey.
Architecture & Property
The neighbourhoods in Wood Green all have very distinct personalities. As opposed to Tottenham in the east, which is mostly made up of smaller homes constructed for railway workers in the 19th century and 20th-century social housing, the area to the west of the High Road was developed as a predominantly middle-class residential area.
As a result, Wood Green boasts an ecliptic mix of old and new. The area is well known for its late 19th century and early 20th century housing estates. You'll also find a number of post-war properties and more recent developments.
Going Out
Residents living in Wood Green as well as the surrounding communities of North London really are spoilt for choice when it comes to going out. For coffee and cake, there's Charlie's Bakery. Beans and Barley have also recently opened on Green Lanes in nearby Palmers Green and are well worth a visit for their delicious granola.
When it comes to international fare, there's no shortage of choices for the residents of Wood Green. On Turnpike Lane, you'll find Salim's – North London's best curry house and best-kept secret. There's also Selale, an authentic Turkish restaurant serving up an incredible lamb and chicken grill. For Greek food, Vrisaki is a local favourite for its welcoming atmosphere and generous portions.
For a night out or sunny afternoon pint, The Nag's Head Wood Green is a spacious sports pub with a beer garden – perfect for warmer evenings in the summer. There's also Spouter's Corner, The Prince and The Starting Gate.
Local Amenities
The Mall Wood Green, formerly known as Wood Green Shopping City, has a number of national, international and local independent stores.
Residents can enjoy yoga and pilates at More Yoga, a studio near Turnpike Lane.
Every November Collage Arts, a creative hub in Wood Green, opens to the public so the artists who rent out the studios are able to sell and promote their work.
There are several swimming pools in and around Wood Green, including the Arnos Pool on Bowes Road. There's also the Park Road Leisure Centre in nearby Hornsey.
Alexandra Park hosts a number of different events throughout the year, including food, craft and beer festivals. Every Saturday morning, residents and visitors alike flock to the park for a weekly Parkrun.
Green Spaces
Wood Green boasts a number of lush green spaces, including Highgate Woods and Queen's Wood. One of the most popular green spaces in Wood Green is Alexandra Park which has been serving the communities of North London for more than 150 years.
Education
Noel Park, Belmont Junior, and Trinity primary schools are rated outstanding by Oftsed, as are a number of secondary schools in the area including Woodstead High School and St. Thomas More Catholic.
St. Michael's CofE, St. Paul's RC, Alexandra primary schools, and Heartlands High School Secondary all receive a good rating from Ofsted.
Transport Links
Trains
Alexandra Palace Station connects Wood Green with central London on the Piccadilly Line. This station is about 14 minutes from Wood Green. You can also take an overground connection on The Great Northern Line.
Buses
There are a number of buses connecting Wood Green with both the surrounding communities of North London and the bustling city centre. Buses passing through Wood Green include the 123, 141, 221, 232, 243 and 29. There is also the night buses N29 and N91.