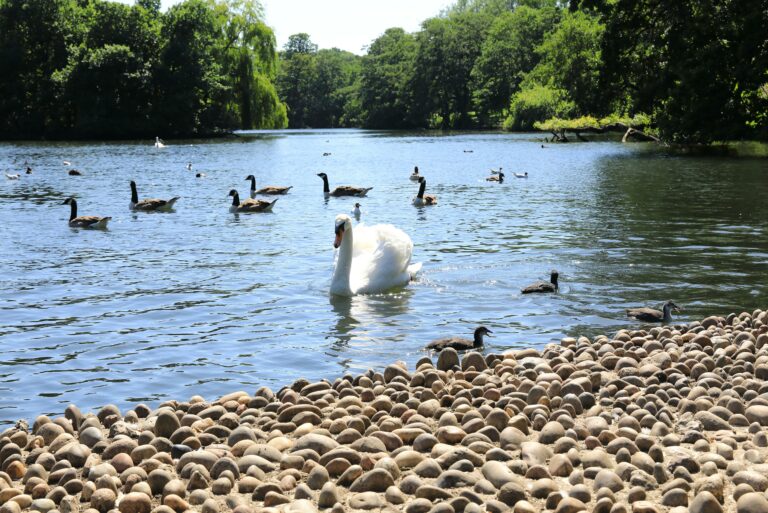 Nestled within the borough of Enfield in North London, Winchmore Hill is a leafy, well-connected locality boasting excellent transport links and a cosy, homespun ambience a mere hop, skip and a jump from vibrant central London. A sleepy area characterised by large Art Deco mansions and leafy streets, Winchmore Hill was first recorded as a hamlet in 1319 as Wynsemerhull and has been separated from nearby Southgate since the 15th century by Grovelands Estate.
In 2021 Winchmore Hill was voted one of the best places to live by The Sunday Times. Take a walk through the village green or along the famous Broad Walk, which is Winchmore Hill's very only 'millionaires row', and you'll see why the area is so popular with working professionals, families and celebrities alike. Today, peaceful Winchmore Hill is a delightful collection of quaint antique furniture shops, historic properties, modern new builds and cosy eateries.
Did You Know?
Winchmore Hill is proud to have a dedicated residents' association. For more than 60 years, the residents' association have fought tirelessly to preserve the area and ensure it retains its community spirit.
The late Amy Winehouse, a renowned British singer-songwriter famous for her contralto vocals, was born in nearby Southgate in 1983. Winchmore Hill is connected to Southgate via the historic Grovelands Park – a private estate turned public green space now enjoyed by residents across North London.
Winchmore Hill is home to the infamous Priory Clinic, where Chilean general Augusto Pinochet received medical attention while under arrest in 1998.
Why Winchmore Hill?
With its expansive, unspoiled green spaces and historic, beautifully preserved homes from the 1930s, Winchmore Hill is a highly sought-after locality for families and working professionals alike. The area combines modern convenience with a long and fascinating local history still seen in the area's architecture today.
Boasting a number of exceptional amenities in the area, including a busy village green and a high street lined with cafes, restaurants and traditional pubs, the community spirit of Winchmore Hill is exemplified in the local resident's association which has been active for more than 60 years. Oozing old-world charm with several stunning Edwardian properties in the area, Winchmore Hill boasts a traditional village green, an 18th–century pub dating back to 1726 and plenty of local legends and history to boot.
Architecture & Property
Winchmore Hill is a conservation area. In terms of architectural style, you'll find a mix of modern properties and older, more traditional homes. There are a number of earlier properties in Winchmore Hill built during the Edwardian era which still retain their original features and historic ambience.
The most expensive road in the area is the Broad Walk, a long road leading off the central village green where you'll find several enormous fully detached mansions built in the 1920s and 30s. Many of these mansions have undergone significant refurbishment or have been knocked down in favour of what's become known as a 'footballer wife' style of architecture with modern features, off-street parking and large security gates.
Going Out
There are a number of fantastic restaurants, bars and cafés in Winchmore Hill, as well as independent and national supermarkets, delis and grocers. The central village green is lined with quaint eateries including  The Larder, a local favourite. The Salisbury Arms and Buckle and Vaughan are also popular with both residents and visitors to the area. For breakfast, there's Treacle's Tea Shop and of course, like many of the communities across North London, there's a brilliant array of international cuisine including Greek on the Green, a traditional Greek restaurant offering authentic, well-priced fare.
For a night out, there are several pubs in the area offering up traditional British cuisine and drink. Ye Olde Cherry Tree boasts a superb beer garden, which is ideal during the warmer months and of course, there's the Crown & Horseshoes, a traditional pub in a charming setting next to the New River.
Local Amenities
Built in 1827, St Paul's Church was refurbished after a fire in 1844. It was built as a 'Waterloo' church and is well worth a look.
The Quaker Meeting House, built in 1688 and rebuilt in 1790, is a Grade II listed building. Famous names buried there include Luke Howard, the father of modern meteorology and Alice Hum, the founder of Palmers Green High School for girls.
Green Lanes boasts an array of international and British cuisine, with several exceptional Turkish restaurants and traditional pubs.
Bordering Winchmore Hill is Palmers Green, home to the largest Cypriot community outside Cyprus and the famous Intimate Theatre – big names to have graced the stage here include Richard Attenborough, Vivien Leigh, David Bowie and Roger Moore.
Winchmore Hill is home to a number of markets, including the Whetstone Traditional Farmers Market and the Enfield Town Market.
The Little Green Dragon is an ode to an 18th-century pub built nearby in 1726. The original pub was pulled down and rebuilt in 1892 then remodelled in 1935 before becoming a supermarket in 2015.
Green Spaces
Groveland Park is one of the most popular green spaces in the area, connecting Winchmore Hill with nearby Southgate. The park was once a part of a private estate that has separated the two areas since the 15th century. Close by you'll also find Firs Farm Wetlands Park & Playing Fields which boasts a wonderful array of wildlife, and New River, a local favourite for both dog walkers and families alike.
Education
Winchmore Hill boasts several exceptional public and private schools, making it a popular area for families. For younger children, there's St Jude and St Paul's CofE Primary School, Highfield Primary School, Eversley Primary School, Grange Park Primary School and Grange Park Preparatory School, as well as Keble Preparatory School for boys and Palmers Green High School for girls. The area also has a number of excellent secondary schools including Winchmore School, Palmers Green High School for girls, Highlands School and St Anne's Catholic High School.
Transport Links
Trains
Central London is only a stone's throw from Winchmore Hill, via underground or overground train and boasts excellent transport connections into the city. The Piccadilly line can be accessed at Bounds Green, Arnos Grove and Southgate. From Palmers Green Railway Station you can also travel to Finsbury Park, Highbury & Islington, Old Street and Moorgate.
Buses
Routes passing through Winchmore Hill include the 34, 102, 121, 232, 329 and the N29. The 141 and 629 both terminate at Clockhouse Junction.