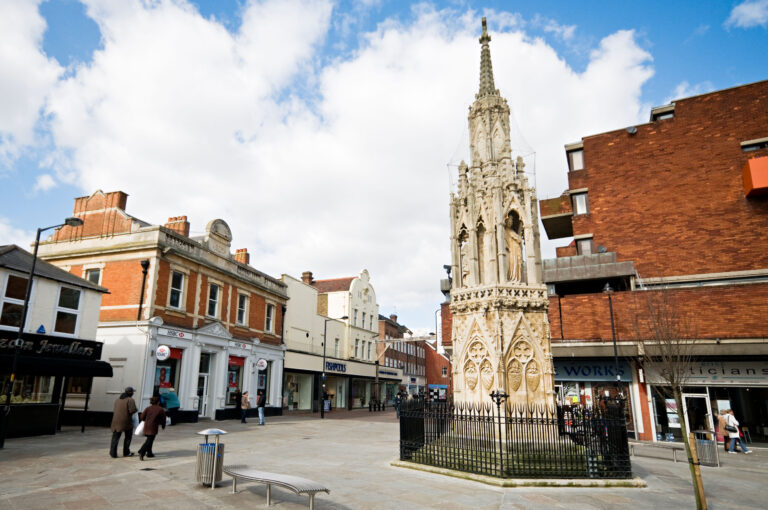 Named after the Eleanor cross which still stands in the town centre, Waltham Cross falls within Hertfordshire's borough of Broxbourne and the metropolitan area of London. A market town just a stone's throw from central London, Waltham Cross boasts a fascinating history complete with kings, queens and stunning period properties reminiscent of a bygone era.
Did You Know?
The Eleanor cross at the centre of town is one of three remaining crosses constructed in the 13th century by King Edward I following the death of his beloved wife Eleanor of Castile in 1290.
In 2012, The White River Rafting Centre was built in Waltham Cross's Lea Valley to host canoe slalom events during the Olympics. It has since opened to the public (the only purpose-built venue to do so) with around 155,000 visitors flocking to the centre every year.
Waltham Cross has had a number of notable residents over the years including musician Cliff Richard and Victorian novelist Anthony Trollope. Actor Bill Treacher was also raised in the area – before his role on EastEnders as Arthur Fowler, he was a porter at Waltham Cross Station.
Why Waltham Cross?
A peaceful oasis on the outskirts of Northern London, Waltham Cross has a long and fascinating history. Combining historical charm with modern convenience, today the high street is fully pedestrianised with a number of independent retailers and an indoor shopping centre.
Waltham Cross boasts a number of excellent amenities including trendy cafes, restaurants and traditional pubs. There are excellent transport links that will take you into the city, meaning the excitement of central London is never far away. Waltham Cross has long been a haven for families, with beautiful, expansive green surroundings in the area as well as a number of reputable schools. In recent years it has also attracted young professionals seeking a little peace and quiet from city life.
Architecture & Property
Waltham Cross is a historic market town. There are a number of older style, traditional homes in the area with architectural styles ranging from Tudor and Georgian to Victorian and Edwardian. The hamlet is also home to a number of modern new builds, meaning there's a little something for everyone.
Going Out
Waltham Cross has a number of cafes, classy restaurants and pubs offering traditional British fare, particularly on the main street. Like most of North London, there is also no shortage of international cuisine with Indian, Mediterranean and Turkish all within walking distance of Pavilions Shopping Centre. Kervansaray Restaurant is a local favourite, offering up authentic Turkish food in a beautiful setting just a few minutes from Waltham Cross station.
For a night out, The Vine on High Street offers a carvery by an open fire in a recently refurbished 1930s building. There's also the Moon and Cross, a local Wetherspoons in a beautifully ornate building.
Local Amenities
Pavilions Shopping Centre is just a few minutes from Waltham Cross station. Boasting several local independent stores as well as national chains including Argos, Boots and Costa Coffee, Pavilions Shopping Centre houses a number of names and brands, from everyday shopping to jewellery and gifts.
Green Spaces
Just a few minutes' walk from the High Street you'll find Cedars Park and Nature Centre. Once a 16th-century royal property, Cedars Park offers picturesque gardens, ponds and plenty of walking trails. There's also Theobalds Park, a local favourite.
Education
Waltham Cross has an abundance of local schools from primary age all the way up to sixth form education. Primary schools in the area include Brookland Junior School, Burleigh Primary School and Downfield Primary School among others. Secondary students have a choice of Cheshunt School, Little Bury Resource Centre and Turnford School.
Transport Links
Trains
Waltham Cross is on the Greater Anglia Line running directly to Liverpool Street in Central London.
Buses
A number of buses connect Waltham Cross with both North and Central London. The 217, 279, 317 and 66A all run through Waltham Cross. There is also the N279 night bus.