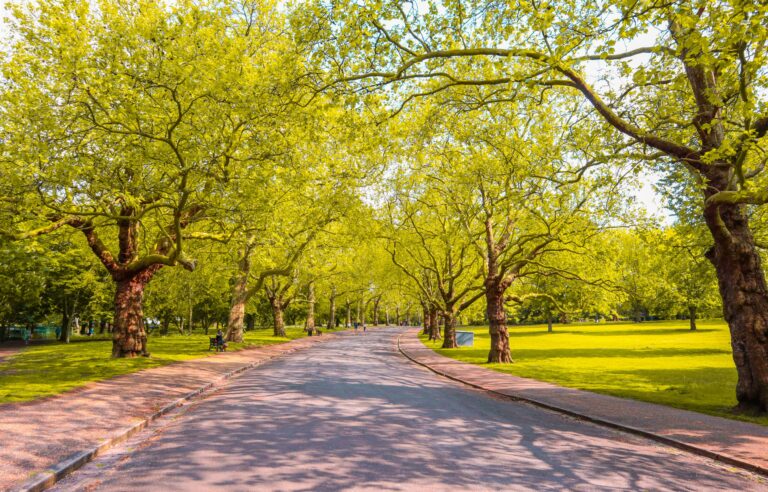 Sitting on the border between Islington and Haringey, Stroud Green is a friendly, laidback neighbourhood lying just south of Crouch End. Its unique location in London, a stone's throw from the busy city centre and surrounded by the vibrant communities of the Northern Boroughs, make the area of Stroud Green an idyllic spot for families, working professionals and young people alike.
Over the years, Stroud Green has retained its village atmosphere and has a strong community spirit. With exceptional transport links and a number of stunning Victorian and Edwardian properties, the neighbourhood is an up-and-coming area boasting a vast array of community-centric amenities, from Rowans Bowling Alley to the expansive grounds of Finsbury Park.
Did You Know?
Little is known about the history of Stroud Green. The neighbourhood was first recorded in 1407 as Strode from the Old English word stōd meaning 'marshy ground covered with brushwood'. In 1546, it was recorded as Stowde Grene – in Middle English, grene translates to 'village green'.
In 1914, The Scala Cinema opened on Stroud Green Road. Closing in 1924, the building had a chequered history as a billiard hall, wartime factory and Irish dancing school. It was demolished in 2008, and the site is now occupied by a block of flats and a Sainsbury's supermarket.
In 2003, Haringey Council designated Stroud Green as a Conservation Area due to the number of 19-century properties in the area. Architectural styles range from quaint artisan cottages and Gothic-revival homes to Italianate-renewal terraces and Queen Anne-style semi-detached properties.
Why Stroud Green?
Stroud Green is still a relatively untouched gem. Over the years, the neighbourhood has retained its village-like ambience and boasts a number of excellent schools, independent cafes and unique local amenities that are attracting Londoners in droves.
Lying on the Islington-Haringey border just north of Finsbury Park station, Stroud Green is a little-known treasure that still maintains the atmosphere of an authentic London neighbourhood. The high street is much more than just a bus route leading up to the majestic heights of Crouch End and Muswell Hill, with a number of independent mouth-watering hotspots for local residents, visitors and foodies from across the city. Brunch and dinner options aside, Stroud Green also boasts streets upon streets of stunning Victorian and Edwardian properties, as well as a number of expansive green spaces. With excellent transport links and envy-inducing proximity to Finsbury Park, it's not hard to see why Stroud Green is becoming an increasingly popular area with families, working professionals and young people alike.
Architecture & Property
Stroud Hill has been a designated Conservation Area since 2003. The neighbourhood boasts vast swathes of beautiful historic homes from the 19th and 20th centuries, with a dazzling array of Victorian and Edwardian properties in a variety of different styles.
Many of the historic Victorian and Edwardian terraced homes in Stroud Green have been transformed into spacious flats, although there are still a number of detached and semi-detached homes in the neighbourhood with five or six bedrooms.
Stroud Green also has a few housing estates with ex-local authority properties that offer affordable housing for families and working professionals. Over the years, these estates have undergone extensive refurbishment and are now predominantly privately owned.
Going Out
Front Room Café offers some of the very best breakfasts in the neighbourhood. With exposed brickwork, fresh orange juice and gorgeous wooden tables, you'll be hard-pressed to find a more authentic, down-to-earth brunch experience in London. Vagabonds Coffee and Blighty Coffee are two popular spots in the neighbourhood for early-morning caffeine runs, and of course, there's The Exeter Street Bakery offering up cannoli and cocktails alongside delicious pastries and breads to take the edge off a long day. Boulangerie Bon Matin on Tollington Park is highly favoured amongst locals and further afield, a place where food is an experience to be savoured and memories with loved ones created.
There's also Seasons Kitchen, which as the name suggests, is all about fresh, seasonal ingredients. There's The Deli at 80, which stocks a dazzling array of locally-sourced produce and goods, including organic honey and British cheeses. The deli offers some of the best sandwiches in the neighbourhood and hosts regular wine nights.
The Finsbury is a classic British pub with comfy sofas, live music, comedy nights and a great atmosphere, making it a popular spot for both residents and visitors alike. The Faltering Fullback is also a must-see, with a beautiful beer garden, rustic interior and welcoming atmosphere.
Local Amenities
Stroud Green is well serviced by both national and independent supermarkets, including Tesco, Sainsbury's, Green and Glory, Brothers Food & Wine and The Fruit Man.
Rowans Bowling Alley is a local favourite for a corny night out, where residents and visitors alike can relive their youth slurping down slush puppies and bowling strikes. It also has karaoke, an arcade and a dancefloor.
MoseyHome boasts an ecliptic mix of lovely mid-century furniture and handpicked vintage items. It's also a creative hub for workshops and community events.
For a night out, there's The Night Owl. Opening in 2021, the building has been an entertainment venue since the 1930s when it first opened as The Silver Bullet Pub.
The Park Theatre regularly puts on productions and shows with a distinct neighbourhood vibe.
New Beacon Books on Stroud Green Road is the first independent publisher solely dedicated to Caribbean and Black interest fiction and non-fiction in the UK. The adjacent bookshop boasts over 35,000 books and was set up to share the history and politics of Black Britain and Europe.
Chaps and Dames is a well-known hairdresser and salon in the neighbourhood. As well as being a high-quality salon, Chaps and Dames boasts friendly staff, a comfortable atmosphere and a singing barber.
The Angel Central Shopping Centre in Islington is close by. There you'll find everything you need under one roof including high street clothing shops, supermarkets, restaurants and cinemas.
Green Spaces
For the residents of Stroud Green, there's no better spot on a sunny day than Finsbury Park. Boasting more than 100 acres of expansive green space, the parkland borders Stroud Green to the east and has a boating lake, tennis courts and a lovely café to while away the afternoon hours.
There's so the Parkland Walk which winds its way down from nearby Muswell Hill, through Stroud Green to Finsbury Park.
Education
There are many excellent primary and secondary schools available to families in Stroud Green. Primary schools include Christ The King Catholic Primary School, Pooles Park Primary School, Ashmount Primary School and St Gildas'Catholic Junior School.
The main secondary school in Stroud Green is the Arts and Media School Islington, for 11 to 16-year-olds.
Transport Links
Trains
There are many local buses connecting Stroud Green that offer excellent connections to central London. Finsbury Park and Manor House stations offer a quick connection to the West End on London's extensive underground network including the Piccadilly and Victoria lines.
There are also stations in Crouch Hill and Haringey providing access to national train services that go into the heart of London and beyond.
Buses
Stroud Green is well connected by bus, with connections including the 19, 210, 253, 254, W3 and W7.