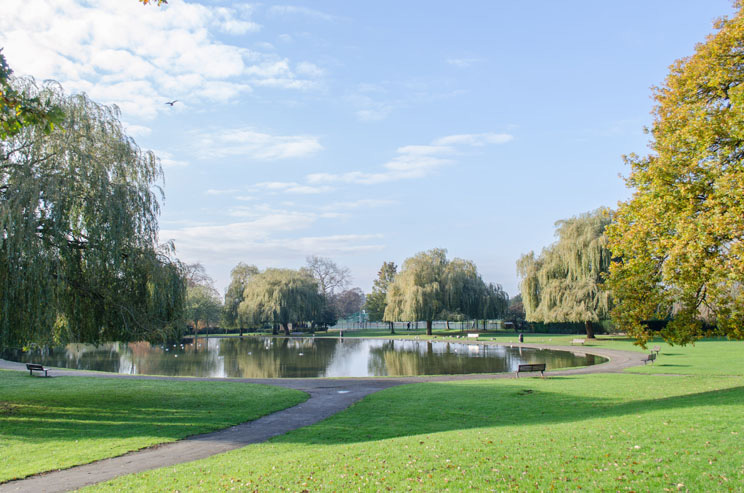 Boasting numerous green spaces popular with joggers, dog walkers and families alike, Palmers Green is a serene, peaceful area only an hour away from London's busy city centre.
Like most of the surrounding communities across North London, Palmers Green has transformed over the years from a quiet village to a vibrant neighbourhood often referred to as the 'Jewel in the North'.
With the largest Cypriot community outside of Cyprus, Palmers Green has a distinctly Mediterranean ambience with a plethora of international and national supermarkets, cafes and restaurants peppered throughout the neighbourhood.
Did You Know?
Green Lanes, one of the longest streets in London, is Palmers Green high street and central belt. The road features in Harry Potter and the Prisoner of Azkaban, when Harry finds himself on the Knight Bus.
Foodies from all over London make the commute to Palmers Green for the ecliptic mix of international supermarkets, restaurants and cafes that populate the area, particularly to the South where you'll find the best Turkish food in the city along North Circular Road and Green Lanes.
Palmers Green has a strong community spirit – local residents have planted a community orchard in Broomfield Park and previously campaigned to restore the historic Broomfield House.
Why Palmers Green?
Often referred to Little Cyprus or Palmers Greek as a result of its large Cypriot community, Palmers Green is a vibrant, community-centric area rich in history with a dazzling array of supermarkets, bars, restaurants, coffee houses and local stores. With tree-lined streets and a strong community spirit, the neighbourhood offers an abundance of schools, eateries, stunning traditional properties and open, green spaces including Broomfield Park where you'll find the historic Broomfield House.
Palmers Green was first recorded as Palmers grene in 1608 and is said to have earned its name from the 'village green associated with a family called Palmer'. With numerous schools dotted throughout the neighbourhood as well as a number of beautiful period properties oozing historic charm, Palmers Green is a popular area for families and working professionals alike. The village vibe is evident in the community markets held every Sunday as well as the summer fetes, parades and eclectic shops.
Architecture & Property
With a number of detached, semi-detached and terraced homes, there's a little something for everyone in Palmers Green. The neighbourhood is characterised by tree-lined streets of gorgeous Edwardian and Victorian homes, which gives the area a distinctly historical feel.
Going Out
When it comes to delicious international cuisine, the residents of Palmers Green really are spoilt for choice.
As a result of the large Greek Cypriot and Turkish Cypriot communities in Palmers Green, there are a number of restaurants, bakeries, cafes and grocers in the neighbourhood. To really get a feel for the area, stop off for lunch at Aksular, a local favourite opposite the triangle, or book a table at Nissi for a delicious meze overlooking Broomfield Park. Other notable restaurants in the area include Rimini Restaurant, Greens Kitchen and Babinondas.
For a night out of the town, Palmers Green has its own Wetherspoons called The Alfred Herring. The area is also flush with independent pubs offering traditional British fare and a dazzling array of cocktails, wines and beers. Local favourites include The Wishing Well, The Occasional Half and The Woodman, an 18th-century pub housed in two former residential cottages.
Local Amenities
There are a number of national and local supermarkets in the area, including Morrisons and Sainsbury's. For an authentic Palmers Green experience, be sure to have a look at the authentic Greek Cypriot and Turkish Cypriot grocers where you'll find the freshest produce in all of North London.
Green Lanes is one of London's longest roads, running from Newington Green all the way to Finsbury Park. Originally a drivers' road used to transport cattle from Hertfordshire to London, today it boasts an ecliptic mix of restaurants, clothing shops, independent cafes and beauty salons. Also known as Palmers Green Shopping Centre, Green Lanes is just two minutes from Palmers Green Railway Station and is considered the area's high street.
A market is held every Sunday in the train station carpark where visitors and residents alike can purchase fresh produce as well as arts and crafts from local vendors.
Located in a back alley near Aldermans Hill Road, Rag & Bone Bros is an antique store boasting 'vintage curiosities and oddities' from all over the UK and abroad.
Fireworks displays are put on every year for Bonfire Night at The Walker Ground, a multi-functional sporting ground with a bar.
Palmers Green Library on Broomfield Lane is located only a stone's throw from Palmers Green Railway Station.
Since 2010, the annual Palmers Green Festival has been held in Broomfield Park. Thousands of Londoners from across the city flock to experience the festivities.
Green Spaces
At the heart of Palmers Green is Broomfield Park, an expansive 54 acres of lush, green space with a children's play area, model boating pond, bandstand, tennis courts and a beautiful lake. To the north side of the park, you'll also find Alderman's Hill alongside a delightful array of tea shops, restaurants and cafes.
Education
There are a number of excellent schools in Palmers Green. Primary schools include Hazelwood Infant & Junior School, St Michael at Bowes CofE Junior School and St. Monica's RC Primary School.
Secondary schools include St Anne's Catholic High School for Girls, Palmers Green High School, Broomfield School and Winchmore School.
Transport Links
Trains
Although Palmers Green does not have a dedicated underground station, there are a number of nearby stations including Bounds Green, Arnos Grove, Wood Green and Southgate – all less than 15 minutes away by bus.
There's also Palmers Green Railway Station (Zone 4), where residents can travel overground directly to Moorgate and Finsbury Park.
Buses
Palmers Green is well connected by bus, including the 34, 102, 121, 232, 329 and the night bus N29.