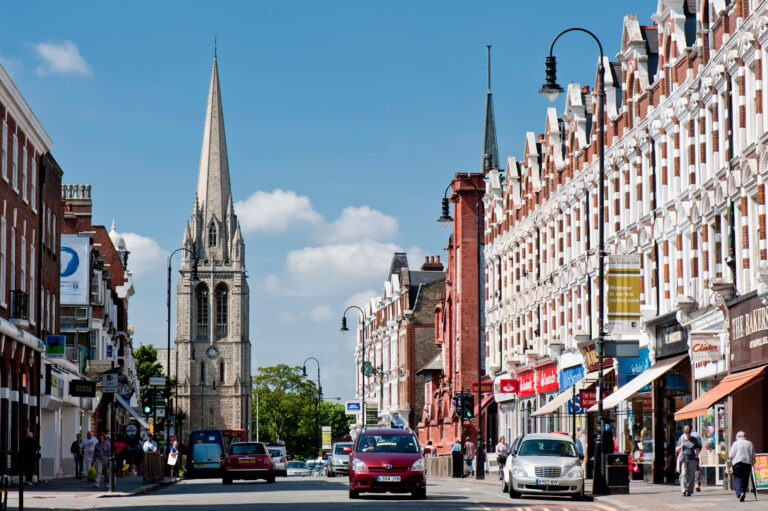 In most cases, a lack of transport options in and out of the centre of London would hinder a locality. However, for the residents of Muswell Hill, it's a part of the charm. With commanding views over the city of London, stunning Edwardian architecture and a plethora of peaceful green spaces, this seemingly untouched gem is a popular spot for families, young creatives and working professionals looking for a comfortable, peaceful neighbourhood away from the busy city centre.
Did You Know?
Discovered in the 12th century, The Mossy Well stream Muswell Hill was named after was believed to have miraculous, healing properties.
Between 1868 and 1970, Alexandra Park had its very own racecourse. Nicknamed 'The Frying Pan' due to its unusual shape, the track was closed due to the increasing costs of keeping it open.
Why Muswell Hill?
Muswell Hill is often referred to as London's best-kept secret. Named after a local stream called the Mossy Well, the area is known for sprawling Alexandra Park with over 190 acres of parkland and infamous views of the city. As a result, Muswell Hill I a haven for families and dog owners alike, with plenty of green space and peaceful woodland nearby.
Muswell Hill also boasts an impressive array of amenities including child-friendly cafes and plenty of trendy restaurants with local and international fare. The Phoenix Cinemas on East Finchley's High Road is considered the jewel of the locality, the building of which remains one of the oldest of its kind in the UK with Grade II listed status and the original vaulted ceiling still intact.
Architecture & Property
Development in Muswell Hill was sparked by the building of the neighbouring Alexandra Palace in 1873, which was North London's response to the magnificent Crystal Palace in South London. James Edmondson and William J. Collins were mostly responsible for the area's property development between 1896 and 1914, giving it one of London's most unified architectural styles. The predominance of lovely red-brick Edwardian residences is a result of their dedication to constructing homes from premium materials in a consistent design. Muswell Hill has maintained its historical character and is classified as a conservation area.
The majority of the residences in Muswell Hill are Edwardian, while there are also some Victorian homes from the 1920s and 1930s with lovely gardens. Due to the strong demand for family residences, many properties in the area that were formerly converted into flats are currently being restored to their former grandeur as single-family houses.
Going Out
For consistently exceptional meals, visit Bill's. There's also Toff's for award-winning fish & chips. There are also several independent coffee shops including Carluccio's and Côte Brasserie.
Local favourite Victoria Stakes is the ideal spot for a cosy weekend afternoon due to its extensive selection of craft beers and hot beverages. Alternatives include The Clissold Arms, where the Kinks performed their debut show, and the mellow Maid of Muswell. On Muswell Hill Broadway, there is also a Wetherspoons bar called The Mossy Well.
For new releases in a glamourous, elegant setting, there's the Everyman Cinema, a Grade II listed building dating back to 1936. There's also the community-run Phoenix Cinema nearby, one of the oldest purpose-built cinemas still running in the UK.
Local Amenities
Every Sunday, locals, visitors and tourists alike flock to the farmer's market at Alexandra Palace for preserves, fresh produce, speciality meats and street food snacks.
Muswell Hill is a haven for book lovers. There's the popular Muswell Hill Library or the independent Muswell Hill Bookshop on Fortis Green Road. Younger age groups are catered to at the Children's Bookshop and the Muswell Hill Toy Library.
The welcoming Muswell Hill Methodist Tennis Club is open to everyone and offers opportunities for professional teaching. There are also teams at every level up to the Middlesex Premier League.
Marks & Spencer, Waitrose and Sainsbury's are just a few of the supermarkets that may meet the shopping needs of Muswell Hill's residents – although, with its wide selection of nutritious foods and beverages, Planet Organic is undoubtedly the area's retail crown jewel. There are also the speciality teas and coffees at W Martyn and the fresh seafood and fish at Walter Purkis, where you can purchase fish smoked in a century-old smokehouse.
There are various pay-and-display parking spaces available in Muswell Hill, particularly along Broadway and Fortis Green Road.
Green Spaces
With 196 acres of lovely grassland, Alexandra Park offers renowned city vistas in addition to a boating lake, pitch and putt course, a rose garden and even a deer enclosure. Alexandra Palace is also located in the park, accommodating concerts, conventions and events such as the World Darts Championships. For residents, going to the ice rink in the winter and seeing the fireworks on Bonfire Night are yearly traditions.
After a hard day in the city, the 70 acres of historic forest at Highgate Wood are also a wonderful place to unwind. Many locals enjoy taking leisurely weekend hikes along its picturesque pathways, and in the smaller Queen's Wood and Coldfall Woods. There's also the Parkland Walk, a 4.5-mile walk connecting Alexandra Palace with Finsbury Park.
Education
Muswell Hill local primary schools include Tetherdown, Our Lady of Muswell Catholic Primary School, Rhodes Avenue Primary School, Coldfall Primary School, Muswell Hill Primary School, and St James C of E Primary. Fortismere and Alexandra Park are two of the area's top state secondary schools. The area also boasts exceptional private schools including Norfolk House, Highgate School, and Channing School for girls.
Transport Links
Despite being a well-liked location for central London commuters, Muswell Hill does not have a dedicated Overground or Tube station. However, numerous stations are accessible on foot or with a short bus journey. Bounds Green, Finsbury Park, and Wood Green are on the Piccadilly Line. There is also Highgate and East Finchley which are on the Northern Line.
Trains
Overground services from Alexandra Palace or Hornsey stations take 20 minutes to Moorgate.
Buses
Muswell Hill has good bus connections, with direct routes both to the City and the West End Buses such as the W7 (to Finsbury Park) connect to the nearby underground stations. The 43 also runs to London Bridge and the 134 has a 24-hour service to Tottenham Court Road.
Drive
With the M1 only a 15-minute drive away via the North Circular Road, Muswell Hill residents have easy access to the north of England.