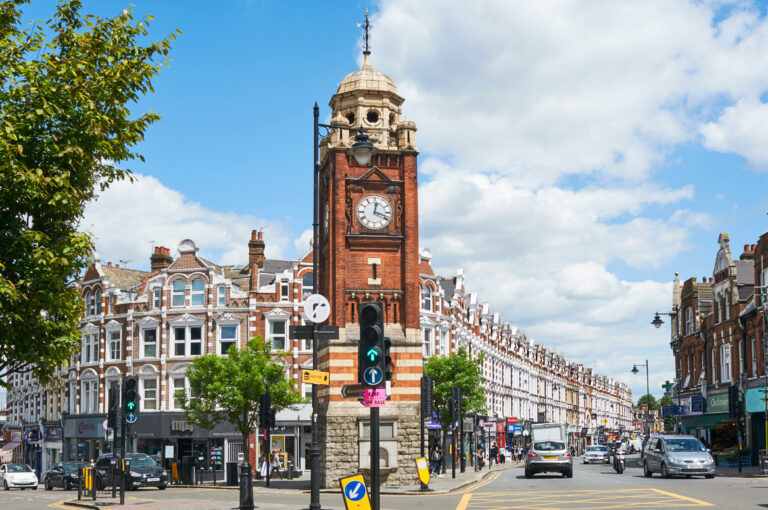 Overlooked by nearby Muswell Hill, Highgate and Alexandra Palace, the leafy surroundings of Crouch End are sure to impress. Featuring a vast array of historic properties as well as contemporary developments, Crouch Hill combines a distinct village vibe and strong community-centric spirit with the conveniences of modern living.
Did You Know?
Crouch End has seen many famous faces over the years, retaining its appeal to many famous household names, particularly within the media industry.
Bob Dylan has been spotted hanging around The Church Studios, a world-famous recording studio located in the heart of Crouch End. Rumour has it the singer-songwriter has also dined at local favourite Banner's Restaurant – there's even a plaque commemorating his visit.
Crouch End's striking clocktower was erected in 1895 in honour of Henry Reader Williams, a local politician who fought tirelessly in his lifetime to preserve the character of Crouch End. He also saved the famous Highgate woods from the hands of developers.
Why Crouch End?
Boasting a landmark clock tower, independent pubs and restaurants, vibrant streets and panoramic views of the city, Crouch End is an artsy and bohemian residential community less than an hour from central London.
Once a medieval route from London to the north of England, Crouch End was a wooded farming area up until the late 18th century when it evolved dramatically from a largely rural area to a prosperous, middle-class suburb. Today Crouch End is home to a delightful array of residents seeking solace from busy central London.
Located within the popular London Borough of Haringey, Crouch End blends the historic with the contemporary. Offering an incredibly diverse array of services and independent retailers and eateries such as the historic Dunn's Bakery, the area is wonderfully lush and green with expansive parks, woodlands and green spaces including the popular Parkland Walk. The area also boasts excellent private and public schools, making it a popular spot for families and creatives alike.
Architecture & Property
By the late 19th century, Crouch End was a few villas, notably the majestic Crouch Hall. The construction of a railway had a significant impact on the area, and by 1887 there were seven railway stations. The development of public transport in the area prompted a surge in the construction of residential housing as London's wealthy, seeking an oasis from the busy city centre, found themselves drawn to Crouch End's expansive green spaces and peaceful, village-like ambience. The elegant Edwardian red brick homes built by architect John Farrer in the area's east, notably along Cecile Park.
While the surrounding communities suffered significant damage during World War II, Crouch End was able to preserve a significant number of period homes. These properties now make up the majority of the area's burgeoning real estate market as either houses or conversions. Young families and professional couples continue to frequent the neighbourhood. More recently, there has been a surge in uniquely designed new built developments, including Hornsey Town Hall, 'Candela Yard' and Eden House, taking advantage of Crouch End's diverse and enduring appeal.
Going Out
From Thai, Italian and Caribbean to Japanese and Indian cuisine, when it comes to eating out in Crouch End you can rest assured the bustling neighbourhood will not leave you wanting. Banner's Restaurant is a local favourite and is ideal for families. Bistro Aix serves the finest French food in the area, but if you're after authentic beef rendang you'll want to head to Tootoomoo. For breakfast, brunch and lunch look for Sable D'or Cafe Beam.
For a night out, The King's Head pub offers fantastic food and drink. The venue also comedy and quiz nights which are hugely popular with the locals. The comedy club at The King's Head is one of the oldest in Britain, which various top names gracing the stage over the years including Al Murray and Rowan Atkinson. For modern pub grub, there's also The Queen's Pub on Broadway Parade.
For a bit of local art and culture, there's the Arthouse Crouch End, a boutique cinema situated in an old Salvation Army Hall and the Arts Centre within Hornsey Town Hall. There's also Alexandra Palace, which hosts events, musical performances and cultural events, and every June, you can attend the annual Crouch End Festival during which the neighbourhood's artists and creatives come together for various festivities including art exhibitions, historical talks, poetry and spoken word performances, plays and choir performances.
Local Amenities
For fresh seafood, including fish smoked in-house, have a look for Walker Purkis & Sons in Crouch End – London's oldest working smokehouse.
Homemade loaves and pastries can be procured at Gail's Bakery or Dunn's Bakery
There is an array of independent and chain coffee shops and cafes including Sable D'or, Cafe Beam and Coffee Circus.
The Original Gallery, The Promenade Gallery and the Community and Youth Music Library are all located in the Hornsey Library, where you'll find plenty of art as well as an extensive collection of musical scores to while away the afternoon.
There are several gyms in the area, including Pure Gym, Virgin Active and Park Road Pools and Fitness. For something a little different there's also The Pilates Place and Yogacentric.
Crouch End Picturehouse has four expansive screens, a 22-seat screen room, a restaurant/bar and a world-class cafe.
Locals also have their pick of Britain's most well-known supermarkets, including Waitrose, Tesco, Marks & Spencer and the Co-op – all located within a stone's throw of the area's iconic clock tower.
Green Spaces
With acres of expansive parkland bordering the area on every side, the locals in Crouch End really are spoilt for choice when it comes to green spaces. Alexandra Park, which boasts 196 acres of glorious woodland, a boating lake, a Sunday farmer's market, skate park, ice rink and pitch and putt course, is just a short bus ride away. You'll also be rewarded with panoramic views across the city of London and easy access to the many exhibitions and events held every year at the Alexandra Palace, known colloquially by locals as 'Ally Pally'.
In addition to Alexandra Park, residents and visitors alike can also enjoy several other nearby parks and recreational spaces, including the adventure playground at Queen's Wood, the paddling pools and sporting facilities at Priory Park and the tennis courts at Stationers Park. For a walk, there's the Highgate Wood and of course, Parkland Walk, which boasts 4.5 miles of walking paths between Finsbury Park and Alexandra Palace. The path is an old historic railway line and is now a haven for flora, fauna and wildlife.
Education
The number of families residing in Crouch End is largely due to the area's excellent schools. Along with St Aidan's Voluntary Controlled Primary in neighbouring Stroud Green, other local elementary schools include Coleridge Primary School, Weston Park Primary School, Rokesly Junior School, St Gildas' Junior School and many others. The Hornsey School for Girls, Highgate Wood and Greig City Academy are just a few of the nearby secondary schools in the neighbourhood. There's also Kestrel House School, an independent school for autistic children.
A number of private schools are easily accessible, including Channing and Highgate School.
Transport Links
Trains
Trains from Hornsey and Crouch Hill. Trains from Hornsey take 20 minutes to Moorgate, via Harringay Station and Finsbury Park (Piccadilly & Victoria).  Harringay Green Lanes Overground station takes you west towards Hampstead Heath and east towards Barking.  Kings Cross St Pancras is 35 minutes away.
Highgate underground (Northern Line) is a 20-minute walk from the West of Crouch End Broadway.
Buses
Several buses connect Crouch End to Central London, as well as to other areas of North London. Buses include numbers 41 (to Archway) and 91 (to Trafalgar Square). The W5 and W7 serve Archway, Muswell Hill, and Finsbury Park.  Crouch End has two-night buses: N41 and N91.
Cycle
Crouch End is approximately a 45-minute cycle from London Bridge.